Hi ya'll! Happy Friday!!!
I'm sooooo looking forward to the weekend...like, seriously!
A blog hop is a place to link up your blog, fb, twitter, whatever, and then you hop around to the other links and find blogs etc that you like! So its a place to FIND and be FOUND! yay!

Grab the hop button and add it you your blog here: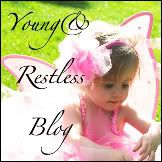 Ohhhhhh and how about a little give away from my shop?
I'm giving away a $20 shop credit!
I've got lots of newbies in and more to come!!!
Comment for each...
Must be a follower of my blog via Google Friend Connect.
Follow me on facebook
Follow me on bloglovin
Follow me on pinterest
Follow me on instagram @newlife48
Winner will be picked on Thursday September 20
I've been having a very emotional week...I feel slightly overwhelmed and let down by some that I've really let in...
I've done a few posts on my thoughts...here and here.
My Chick is in full on "Terrible Two" mode...
It's real people. REAL.
So I'm hoping this weekend is a relaxing on...
I'm seeing a trip to Redbox in my future...
Anyone...Anyone,
Have tips on potty training??
This quote...
It's my life is a few words...
And my next tattoo!
You'd never think that gal could be in full on attitude mode...
She is.
Don't let the cuteness fool you...
It gets me all the time.
Seriously...
Look at her!
How sweet....
HA!
Hope you all have a fantastic weekend!!!
One love yall!